IT repair and proactive maintenance are among the services most managed IT services providers (MSPs) offer. This is likely why some business owners mistake them for IT support providers. But this couldn't be further from the truth — MSPs do much more than keep your computers in top shape.
What is traditional IT support?
IT support refers to services meant to address problems in IT-related products and services. If your computer is taking too long to boot or you can't connect to your office router, for example, you can call on IT support to resolve the problem. This reactive nature is why some people also call it "break-fix support."
IT support can be either outsourced or in-house. Companies that specialize in repairing and maintaining computers are a good example of outsourced IT support providers. On the other hand, internal IT departments are examples of in-house IT support.
There are several cases when traditional IT support may be ideal for your business:
You don't expect your business's IT needs to grow in scale or complexity anytime in the future.
You use a complex, possibly in-house, application that does not require frequent upgrades or need specialized skill sets to use or maintain.
What are managed IT services?
Managed services refer to third-party services meant to care for components or the entirety of your IT system. MSPs offer more than just repair and maintenance — many offer a gamut of services that include IT consulting, cybersecurity, and regulatory compliance.
To understand the advantages of working with MSPs, you have to take a closer look at the qualities that set them apart from traditional IT support providers.
1. MSPs are always on
Unless specified otherwise, MSPs are available 24/7, even during holidays. Those that do so can be conveniently reached at any time of the day, and most also offer round-the-clock services, such as remote monitoring, too. Through this service, your MSP partner watches over your IT system for errors and possible cyberattacks, and resolves them before they impact your operations.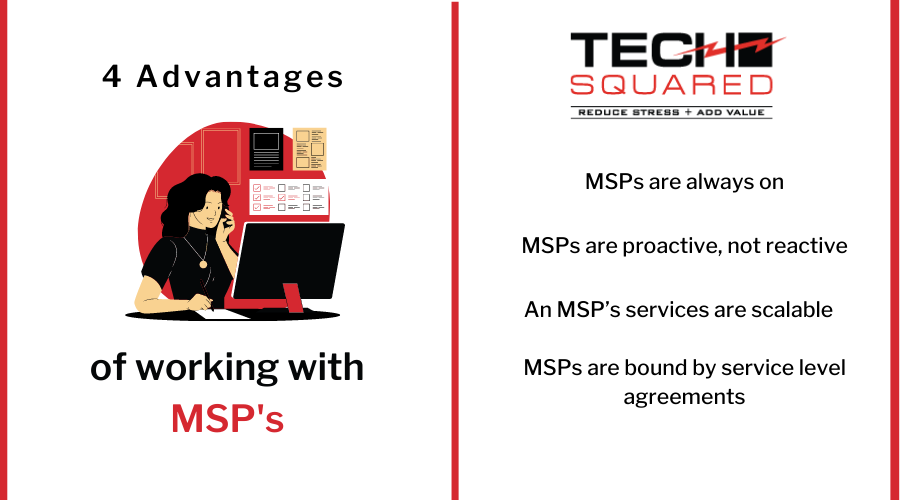 Although some IT support providers operate all day, most follow standard business hours. If you encounter a problem at midnight, you'll have to wait until the technicians are back in the office before your computer problem is resolved.
2. MSPs are proactive, not reactive
Instead of waiting for something in your IT system to go wrong, MSPs take a proactive approach and do what they can to prevent issues from occurring. They check all aspects of your IT system, fix the issues they find, and remedy possible future concerns. This minimizes the risk of delays and downtime, leaving you enough time to concentrate on other valuable tasks, such as growing your business.
3. An MSP's services are scalable
MSPs can adapt to your business's changing needs. Suppose you expand your company and require assistance with more computers. An MSP can easily handle the additional load. All you have to do is inform them. The same is true if you find yourself needing to downsize your operations.
Scalability isn't traditional IT support's strongest suit, especially for in-house IT teams. During expansion, you'll have to hire more people, which is an expensive endeavor. Downsizing can be just as complicated as well.
4. MSPs are bound by service level agreements
When you partner with an MSP, you begin by setting your expectations of what you'll get from them in exchange for the fees you'll be paying. These expectations are subject to negotiation and are ultimately formalized in service level agreements or SLAs. You can think of an SLA as a contract that lays out the quality of service the MSP is obligated to provide you. This could include details like resolution or response times. In any case, an SLA increases the MSP's accountability to you as a customer.
Traditional IT support providers do not offer SLAs. It's a given, however, that in-house teams are required to resolve IT issues in their respective companies.
Tech Squared offers managed services to businesses in Roanoke, Blacksburg, and Lynchburg. We have years of experience doing more than just fixing or maintaining our clients' hardware — we optimize your entire IT system to maximize performance, efficiency, and security.
Discover how managed services can help your business grow when you download this free eBook today!
More Than Just Tech Support
Tech Squared services and solutions Reduce Stress + Add Value to your company.