Your cybersecurity arsenal can never be complete without antivirus software. It's one of the basic prerequisites to keeping your network safe from common cyberthreats. Over the years, antivirus solutions have evolved from simple tools into suites loaded with features meant to augment their capabilities or cover as many of their users' needs as possible.
If you're looking for the best antivirus software for your business, don't expect to find one overnight, what with the sheer number of options available on the market today. One thing you should do during your search is considered which antivirus solutions have extra features that will benefit your business. If you can, ensure that the options in your shortlist have these features built into them:
#1. Phishing protection
A staggering 94 percent of malware is delivered through phishing emails. Unfortunately, users cannot always tell well-crafted phishing emails from legitimate ones. An antivirus solution that scans your spam and inbox folders for malicious emails and virus attachments will drastically reduce your company's risk of falling victim to phishing and other cyberthreats.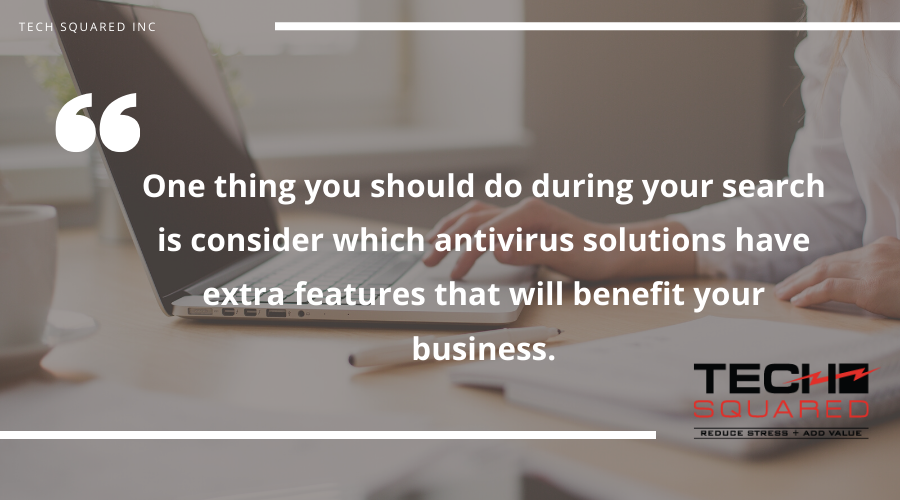 #2. Download protection
Many users download a file they believe to be safe, only for it to infect their system with a virus, Trojan, or ransomware, among other types of malware. Antivirus software with download protection helps mitigate the possibility of this happening.
The antivirus scans files and either warn you of an infection risk before you begin the download, halts, and quarantines the file once it has been downloaded, or both. In any case, the feature gives your data an extra layer of protection against human error, which is still one of the leading causes of data breaches and other cyber incidents today.
#3. Cloud-based backups
Cyberthreats continue to evolve, so it's safe to assume that even the best cybersecurity solutions cannot keep your business absolutely secure from cyberattacks. While it's crucial to try and keep attacks at bay, you must also prepare for when an attack does hit your business.
Some antivirus solutions are equipped with a backup feature. With this feature enabled, the antivirus creates copies of your crucial files and stores these in the cloud.
The feature is an especially great precaution against ransomware, a type of malware that blocks your access to your data and is one of the decade's most fearsome cyberthreats. In the aftermath of a ransomware attack, the backups ensure that you never lose access to your files and can continue your operations.
#4. Firewall
A firewall built into your antivirus solution makes for a formidable multilayered shield from both internal and external cyberthreats. Think of this combination as a one-two punch — the firewall protects your network from external threats, such as hackers, while the antivirus software scans for internal threats, such as downloaded malware.
#5. Multiple device coverage
Nowadays, you and your staff aren't limited to just using your desktop computer to do your tasks. You could be using your laptop computer, smartphone, or tablet, too. And because these devices have access to both your data and the internet, it's essential that they be protected from malware as well.
Your antivirus solution must be usable with multiple devices. This means that it can detect not just threats to your computer, but also to your mobile systems. It must also be lightweight and efficient, able to adjust to different devices' processing power.
Tech Squared has years of experience helping companies in Virginia secure their networks from different types of cyberthreats. Our experts will help you identify reliable and powerful antivirus solutions, ones packed with features that will empower and protect your business, and integrate them seamlessly into your existing system.
Do you want more than just increased cybersecurity for your business? Discover how our managed IT services can help your company grow and achieve its full potential when you download this eBook today!
More Than Just Tech Support
Tech Squared services and solutions Reduce Stress + Add Value to your company.