Spam emails are unsolicited, disruptive, and downright risky. To keep your system decluttered and secure, you need to stop treating them like a negligible annoyance and be proactive with blocking spam out of your inbox.
What are the dangers of spam emails?
Cybercriminals use spam emails as a vehicle for cyberthreats like:
Bear in mind that while not all spam emails carry cyberthreats, their often repetitive content adds little to no value to you. With them crowding your inbox, you could even miss crucial emails from your vendors or updates from your staff.
How do you block spam emails?
Spam emails can be incredibly persistent, but there are ways to prevent them from entering your inbox and avoid the risks that come with them.
#1. Train your email client's spam filters
Most email platforms come equipped with spam filters that automatically reroute emails that possess spam-like characteristics to a separate folder. Emails stored in the spam folder are viewable, but are often deleted after a set number of days.
These filters, however, will sometimes miss their mark, so you'll need to "train" them to do their job better. You can do this by reporting suspicious emails as spam. In Gmail, for instance, you don't even have to open the email. Just tick the checkbox next to the sender's name. Then, in the menu under the email search bar, click on the Report Spam icon (the exclamation point inside a hexagon).
Using this feature trains your email client to identify spam emails better and filter out suspicious messages with greater accuracy.
#2. Unsubscribe, but be careful when you do
Some spam emails are actually newsletters and product catalogs you signed up for in the past. You can easily get rid of them by opening the email and hitting the unsubscribe button. This button is usually found at the very bottom of the email page.
Some hackers, however, take advantage of this feature. Once you click the unsubscribe button, they will send you a fake unsubscribe letter asking for your email address. If you oblige, you may end up receiving even more spam in the future. To avoid this, never click on an unsubscribe link in emails from sources you're unfamiliar with. Instead, mark the email as spam and let your email platform handle it as such.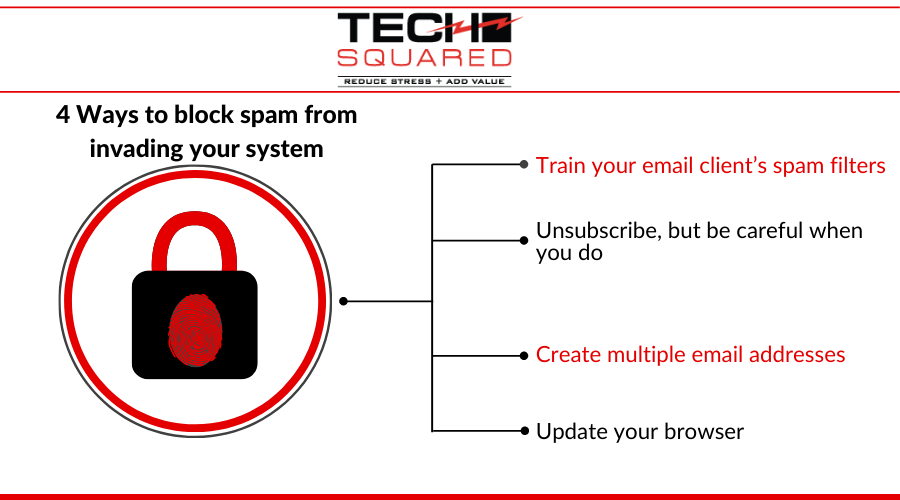 #3. Create multiple email addresses
You need to have at least two email addresses:
Your private email address will be used strictly for business and personal correspondences. This address should be hard to guess, so it shouldn't be a combination of personal details, such as your name and birthday. Additionally, it must be hidden and not published on public online resources.
Your public email address is what you'll use to sign up for mailing lists and public forums. This makes your public address more susceptible to spam and other cyberthreats, so you might have to change it after a while.
#4. Update your browser
Most web browsers are equipped with features that protect users from unsecured and unwanted content. Google Chrome, for example, can filter out pop-up ads and spam messages. Spam authors adapt, of course, so you need to update your web browsers to ensure that they are abreast of the latest spam definitions and protection.
Getting rid of spam emails is just one way to protect your network. You also need to partner with experts who will provide advanced cybersecurity solutions. Here at Tech Squared, we have years of experience in bolstering our client's protection from ever-evolving cyberthreats, such as spam and malware.
Discover how our services will boost your cybersecurity, among other benefits, by downloading this free eBook today!
More Than Just Tech Support
Tech Squared services and solutions Reduce Stress + Add Value to your company.